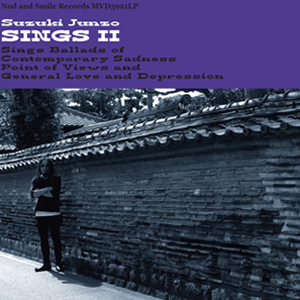 sweet nugs of heaven is this good! peace and love to my friends at
Humboldt Relief
:)
Sings II
, from Japanese psych guitarist
Suzuki Junzo
- Overhang Party, Miminokoto, 20 Guilders - on
Nod and Smile Records
, is an lp that I pull from my top shelf daily. Lustrous in the light as it revolves on the platter, once the needle drops the harvest instantly commences. Upon listening to it for the first time,
Sings II
emitted a beautiful, poignant and multifaceted vibe. It infused my room with an intriguing amalgamation of folk, blues, drone, american primitivism, and some fuzzed out shredding. This latest album from Junzo - not to be confused with the more guitar-centric album concurrently released on
Utech
,
Portrait of Madeleine Elster
- is song based; Junzo is joined on
Sings II
by Acid Mothers Temple guitarist, Kawabata Makoto; and LSD March/Kousokuya and ex Fushitsusha drummer, Takahashi Ikuro. Returning to the aforementioned harvest, Junzo bestows an array of tasty nugs to the listener's waiting head. There are myriad moments suffused on this lp that will please admirers of Robbie Basho, Jandek, Charalambides and Jim O'Rourke among others.
Side A begins with 'In the Eyes of Naze', which features rasping vocals and acoustic guitar that flickers. One of my favorites immediately follows, 'Midsummer's End', in which passages of crystalline finger-picked acoustic guitar and bluesy electric guitar are coupled with Junzo's affecting singing. One of the most attractive attributes of the record concerns Junzo's singing style, which is varied throughout. One feels the earth's plates shift upon Kawabata Makoto's fuzz guitar erupting in the next track, 'Eclipse IV'. Junzo's bleary, ringing guitar and captivating, soaring voice provide an apt companion to Makoto's blazing guitar. Languid blues covered in reverb are fleshed out by percussion and drums in the penultimate track on side A, 'Crying Out Double Suicide Blues'. Junzo's breathy vocals fit congruently to the hazy droning guitar.
Initially, it almost felt tangential, but the punk rock vibe and change of pace in side B opener 'The End of Horizon' exhibits the proficiency of the artist. For me,
Sings II
is analogous to the rotating earth. As
Sings II
rotates, the sun illuminates a particular area and something new and beautiful manifests, yet never departs from the album's aura. Directly following, 'A Tree of Night' sees Junzo return to gentle finger-picked guitar and restrained vocals. The longest track on the flipside, 'Chi No Mure', thrives on the lovely juxtaposition of sustained guitar and calm vocals. The guitar in the beginning has a dreamy, almost listless quality. Progressively the sound becomes more intense, sporadically joined by vocal growls. Before too long, the track ascends as a droning wall of sound abuts composed vocals - the quality of the vocals next to the blown out sound is one of my favorite things here. The energy of this track is such that one may perceive that it resonates in the body. Admirers of Steven R. Smith will enjoy this one. Lastly, 'The Man With The Golden Arm' is more minimal than that which precedes it. Breathy, soft vocals and sparse guitar notes emit intimate energy that extends faithfully until exhausted.
From the top shelf with love, this is highly recommended.
Sings II
, also available on cd, is released in an edition of 500 copies on black vinyl in a gatefold sleeve. It's available for an extremely affordable price from
See of Sound
.
peace and love, friends :)