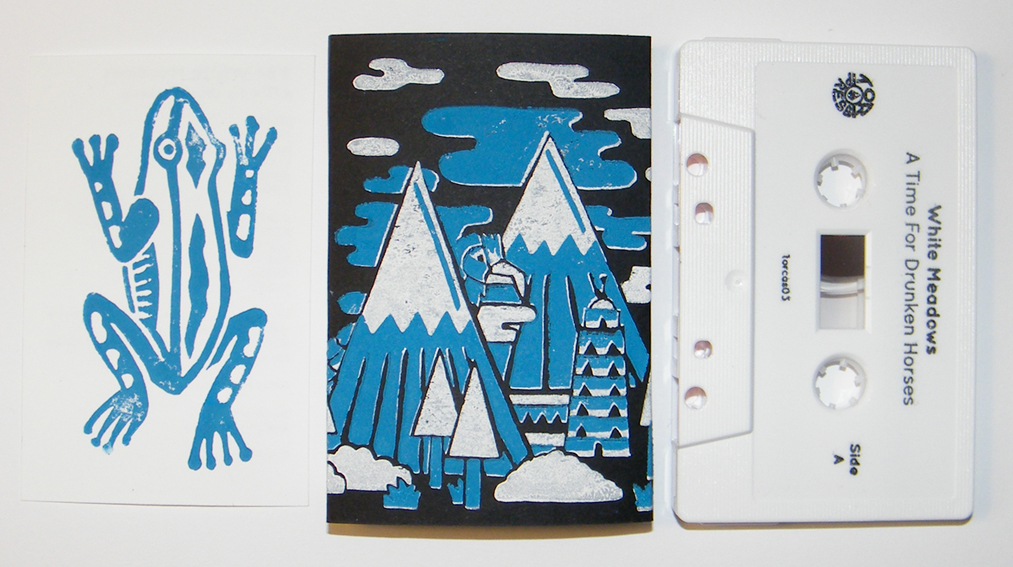 lovely sonic explorations. peace and love to my friends at
Humboldt Relief
:)
One of the year's most interesting and eclectic releases comes from
White Meadows
. Over the past five months, a lot of lovely music has graced this head. Yet, I have not encountered anything comparable to this rich, intricate tapestry of ambient/experimental sound that is informed by science, travel, cinema, and Islamic culture. White Meadows is the project of Harpist/Photographer, Maria Thompson and Peter Taylor, of Mortuus Auris & The Black Hand (MABH). Being an ardent acolyte of MABH's Stunned days,
A Time For Drunken Horses,
on
Tor Press
,
finds this budding duo exploring mystical zones. Throughout these various explorations, the versatility and skill of the artists is saliently present. Peter and Maria improvised live with Heather harp, re-worked violin, homemade percussion and turntables. The listener is invited on an aural adventure that includes light and airy atmospheres; introspective, solemn soundscapes; eastern influences, field recordings and heavy elements.
'Alma' commences the adventure. Elongated tones coalesce to produce a warm, sinuous drone in the beginning. Soon, ethereal passages of sound intercede, endowing the track with tranquility. As the warm, sinuous movement drifts beyond perception, dark and light elements move to the front of the recording. Field Recordings and samples combine with a deluge of tones in the second track, 'Birds'. Copious shimmering tones ensconced in nature wash over the listener - quite lovely and unexpected! The next track, 'Hullamok', is one of my favorites on the tape. It exhibits the gorgeous harp playing of Maria. Aquatic sounds are joined by harp and various samples. The quiet reverberations of Maria's harp embrace the listener. Precious august light permeates Maria's harp on 'Apple' - an absolutely gorgeous, albeit short, track. Those that enjoy Colleen will be in heaven. Ominous tones and meandering currents await in the last track of side A, 'Adhra'. The listener drifts through the dark, unsure of that which approaches - until Maria's reverb-soaked tones massage one's trembling soul. A great track to finish the side! The flip starts with eastern vibrations, gently plucked harp that drifts pleasantly and samples. Unlike anything on the tape, it glows with otherworldly beauty. The latter part of this track includes lovely tones from the violin and serene rhythms. 'Ghasgai' presents an opaque climate. Sounds are barely perceptible in the rolling haze, until a loop of reverb-soaked piano is juxtaposed to a film sample. 'Frogs' mixes samples and Peter's re-worked violin. His frenetic playing, which exists behind a cloak, combines nicely with samples/field recordings. It is quickly followed with tender plucks from Maria's harp. 'Andes' puts forth a tropical, relaxing vibe in the beginning. However, after several vacillations, it departs to an atmosphere where Maria's harp glistens. 'Cloud' gives one the impression that they are listening to a different tape, as it begins with acute electronic currents. Slowly, obscured samples are added. The track begins to pulsate with heavy energy. Soon, the aforementioned elements disappear and samples of synth pervade the mix.
A Time For Drunken Horses
is the debut release from this excellent duo. With material also on Reverb Worship, I eagerly await the next release. Produced in an edition of 50, the tape features the lovely artwork of label proprietor, Jake Blanchard. One may purchase this tape directly from
Tor Press
.
peace and love, friends :)