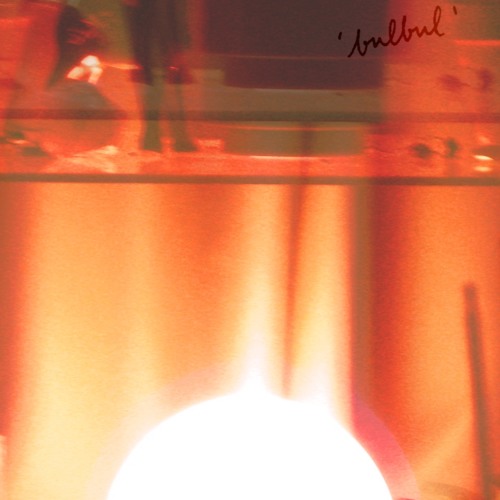 The preponderant physical characteristics of the glistening Olive Oyl are analogous to the fecund ideas, depth, and adroit composition that make this c45 such an entrancing experience.
Bulbul
, the debut tape from
Drab Pony
on
L'animaux Tryst (Field) Recordings
is a deep listener's kind of tape. Drab Pony articulates its vision with loops and samples. The soundscapes are infused with shimmering guitar parts and elements of musique concrete. The variegated bud, bursting with purple, orange, green among other hues correspond to the varying atmospheres of the tape. Without any type of aural perforation, the quiescent, serene drones and tones of side D elevate the listener into the ether, where waves of resonant guitar are interwoven with feedback. Just like Olive Oyl, there is tremendous amount of ideas and depth to this tape. First, side D and P are both dynamic, meticulously-crafted compositions that reward the attentive listener. The subtle introduction, departure, and reappearance of sonic elements throughout the tape - especially the first part of side D - make the tracks sound anything but inert. Additionally, the composition throughout is excellent. Both sides form slowly through the introduction of various layers and ideas. On side D, a serene, pulsating drone seizes the listener's head - perfect music for conscious breathing. Gradually, incipient transmissions become audible from the periphery. Fluctuating, voluminous tones interspersed with soft rhythms move into attention before departing and reappearing - lovely! Side P is just as delightful as buzzing low-ends combine intriguingly with elements of musique concrete and reverberating tones. Reverb-soaked guitar rings into the air, accentuating the mysterious vibrations. Dark, voluminous tones are a harbinger to a section of feedback. Just as the writhing feedback reaches its apex, it fades out and is concurrently followed by a part suffused with luminous, tranquil energy - quite beautiful and an apt ending to this magnificent tape.
L'animaux Tryst is one of my favorite labels, possessing a deep discography that is well-informed by the wonderful taste of it's curator. They release some fine cassettes, as is evidenced by the Pete Fosco tape and Concord Ballet Orchestra Players 2xCS.
Bulbul
is home-dubbed with a grey-foil cassette shell. Presented in a polybox with a full color pro-printed vellum insert, the outer sleeve is made of black cotton art paper and faux gold foil. Released in a limited, hand-numbered edition of 75,
Bulbul
may be purchased directly from
L'animaux Tryst
.
peace and love, friends :)