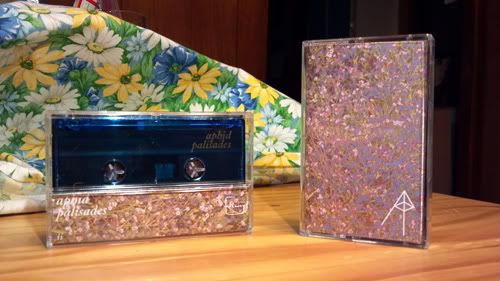 Fadeaway Tapes and indica - the dream combination! peace and love to my friends at
Humboldt Relief
:)
Immediately after receiving this tape, I stared for some time at the artwork - designed by Lee Tindall. I was mesmerized by the pastoral colors and imagery. It reminded me of the Impressionism movement - one of my favorite periods of art. However, the other side was completely different - warped colors representing a barren landscape. Behind the stunning artwork on
ii
, the latest release from
Aphid Palisades
- Ryan Connolly and Lee Tindall - on
Fadeaway Tapes
, is a collection of alluring, poignant tracks. The music on this c44 moves nicely from shorter tracks on side a, to pieces on the flip, which have more room to develop. Regardless of their form, one cannot help but be astonished at the actualized beauty emitted by Ryan and Lee.
Admittedly, I have yet to hear i, which was recorded in 2010. ii was recorded live to tape in the summer of 2011. According to Discogs, the tracks are full sides of music. However, I sensed pauses in the tape, and therefore will describe this music as individual tracks. The first track is pure bliss. Layers of ambient sound float gently and are joined by sharp synth notes. In the middle of the track, a beautiful transition occurs where a Twells/Christensen wall of sound gently creeps into the mix, growing stronger until the track fades. The second track is pure celestial drift, where elongated organ-like tones are nicely contrasted to sharper sounds - music to illuminate sparsely populated lands. The fourth part to side A - the last track - is one of the warmest on the tape. A buoyant mix of Hecker/Fennesz layers of sound produce feelings of tranquility. Towards the end of the track, voices are adeptly added to the background of the mix - perfect!
The flipside presents tracks of longer duration. The first track is ritualistic electronic music - a very nice contrast to side A. Deep tones full of character echo in the sanctuary, while vacillating electronics morph, becoming progressively louder. Track 2 is particularly moving, and it is one of my favorite tracks on tape. The sound could be some type of futuristic funeral music. Very powerful tones - processional, mournful, contemplative - dominate this track. It kind of reminds me of meditation, when one attempts to peer down on themselves from a high perspective. Ryan and Lee take a state of sound and develop it in a special way - elegiac music. The last track is more minimal than those which precede it, as the glistening guitar notes fade into the beckoning night.
After hearing three-quarters of the January Fadeaway batch, this tape is an absolute keeper.
ii
is stunningly beautiful in all respects. Also, this tape deserves your full attention. There are too many beautiful things happening here for one to relegate this to the background. If you're looking for background music, then I suggest
Flumina
, from Fennesz & Sakamoto - nonetheless incredible music and highly recommended. The samples from the new batch of Fadeaway Tapes sound ascendent. When you buy the new batch, pick up a copy of Aphid Palisades ii directly from
Fadeaway
.
peace to you, friends :)
samples from the new batch!