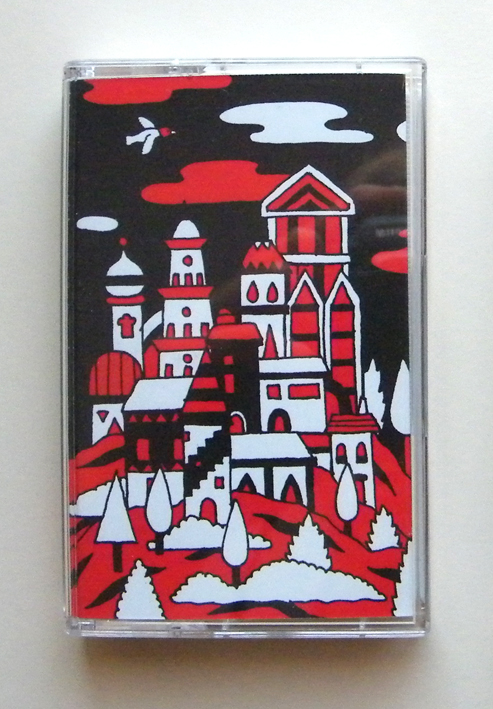 girls scout cookies, milk, and the analog warmth of Ignatz and Sophie Cooper -what a nice treat! peace and love to my friends at
Humboldt Relief
:)
The music of Belgian blues/folk artist Bram Devens' project, Ignatz, does not take much time to permeate the head. Ignatz creates these intriguing hazy musical environments comprised of stories sung by raw, visceral strings that warble. On this split with Sophie Cooper,
Ignatz
strikes gold immediately with the lofi folk that characterizes "Introduction". A touching and moving track, the pace and spectrum of sound it emits recall the early records of Jim O'Rourke. The melody and folk strings of "Licorice" is another touchstone of side A. "For Sale" moves in a slightly different direction. Murky, poignant drones and solitary strings produce ominous moments.
I would buy this split based on the strength of side B alone. Residing in Todmorden, singer songwriter
Sophie Cooper's
side is comprised of psychedelic pop/folk, noise and drones. The music on this side is deeply affecting. One of my favorite aspects of side B relates to the vocals of the artist, which are treated to create songs redolent of intimate and poignant moments. According to the label description, Sophie's art is informed by life. The honesty, which is felt throughout, makes the music shine. "Once My Heart Was Blind" opens the flip with shimmering strings and breathy vocals. Later, a welter of resonant strings combine with hazy vocals to create a dreamy atmosphere. The track becomes more heavy toward the end with the introduction of Jeweled Antler-esque riffs before cascading strings acquiesce to the haze. The second track is the real star of this side. Between this track, "We'll Laugh About This When We're Older (We Won't Know Each Other Then", and the first track on Ignatz' side, I could loop them perpetually. Wistful vocals and poignant folk guitar alternate between states - hauntingly beautiful. The third and fourth tracks move in somewhat of a different direction, especially the fourth. "I Never Associate Dreams With Anything" adroitly utilizes harsh, vacillating noise; drones; vocals; and found sound as a metaphor for the haziness that characterizes dreams - an incredible side of music.
Tor Press
is quickly becoming one of my favorite labels. Not only is Jake Blanchard's artwork amazing, but he is also proving to be a wonderful curator. Produced in a limited edition of 75 pro- dubbed cassettes - featuring artwork by Jake Blanchard - it is sold out at the source and pretty much everywhere. However,
Eclipse
appears to have the last few copies. ensure that you procure one of the remaining copies by contacting Eclipse.
peace and love, friends :)